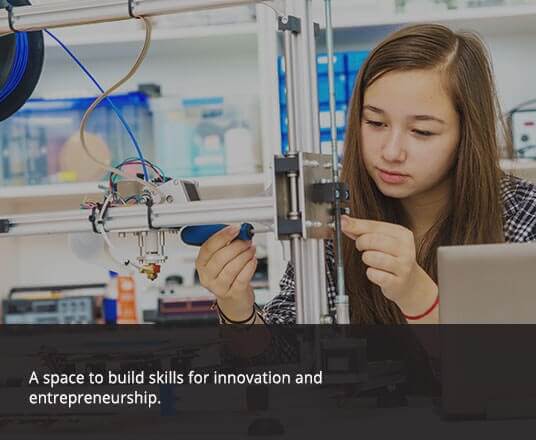 FabLabs, Innovation Hubs & Makerspaces
Driven by the rapidly changing needs of employers, the demand for new skills for the fourth industrial revolution, and the shift of national economies from oil based to knowledge based, institutions are placing a premium on entrepreneurship and innovation, motivating students to become creators and innovators.
FabLabs
The need for education innovation initiatives in Higher Education campuses have renewed interest in FabLabs as part of the campus. Whether setting up a FabLab based on the MIT FabLab model or a Digital Fabrication facility for promoting innovation and entrepreneurship, Edutech provides the consulting, design layout, fit out, technologies and resources required to have a FabLab environment that meets with your vision and needs.
Campus Innovation Hubs
A Campus Innovation Hub is an intentional space for creativity, collaboration and innovation reflective of an environment that intersects art, technology and business. The dynamic environment is equipped with current and emerging technologies, enables students to design and create innovative prototypes of products and services, using a collaborative and interdisciplinary approach.
The Campus Innovation Hub is for students to develop and test ideas, alongside their peers with mentoring from alumni, faculty, corporate partners and beyond. The Campus Innovation Hub brings start-up teams together to have a creative outlet, in a physical space to ideate, innovate and work together and access fabrication equipment to build their prototypes.
A combination of an ID8 Space and MakerSpace
ID8 Space provides and integrated solution of digital projectors or LCD Screens, digital pens, multi-touch tables, modular furniture, VR technology & easy to use apps that will transform entire walls into creative, collaborative spaces for innovative ideas to come alive

MakerSpace provides access to rapid prototyping technologies like desktop or industrial 3D printers, laser cutters, electronics, coding, robotics, CAD, visualisation and simulation programs to bring ideas to life