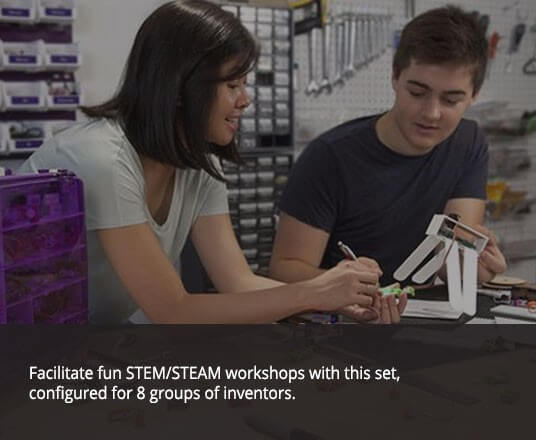 Workshop Set
Facilitate fun STEM/STEAM workshops with this set, configured for 8 groups of inventors. Get ideas from the Educator's Guide or make your own workshops!
For Grades 9-12

Accommodates up to 16 individuals or 8 groups of 2 inventors

Perfect way to incorporate informal STEM/STEAM learning into any program

Designed to facilitate creative inventing in individual or group settings

Easily create customised workshops and lessons with the included instructions

Pro Library
Pro Library is a giant collection of 304 bits and 228 accessories; was built so inventors' imaginations can go wild as they build the most advanced littleBits inventions. It includes complex Bits that bring programming, internet, music and logic into the mix. Get the creative juices flowing in your school, library, or makerspace!
For Grades 9+

Build science, engineering, art, and math skills as you problem-solve and invent

Perfect for collaborative, project-based learning in a group setting

Reuse your Bits in unlimited ways to create new, imaginative inventions

Comes with 3 tackle boxes to store hundreds of Bits on a shelf, or on the go